Rose quartz is the stone of unconditional love, heart, and infinite peace.
This natural crystal wand activates feminine energy and helps to unblock the fourth chakra (Anahata heart) and the first chakra (Muladhara root), achieving the release of negative energies and transforming them into love. Rose Quartz is a crystal that balances emotional body and sexual energy, provides warmth, well-being, and opens your heart to love and affection.
Interested in its benefits?
· Activate your inner energy.
· Open your heart chakra and discover the love in you.
· Help you to love yourself and to love others.
· Raise self-esteem and self-love.
· Open your mind to understand your needs and emotions.
· Activate the female goddess within you.
· Align the energy of the chakras.
· Develop patience for a conscious sexuality.
TIPS
· We recommend the use of a neutral pH lubricant for a massage with your Saktion wand.
· If you feel that the wand is cold, you can grasp the crystal to warm it up with your hands.
· Clean before and after use with cold or warm water; never with hot water as it could break the wand. Saktion recommends using a neutral pH soap.
RITUAL OF CONNECTION
We recommend that you wash your crystal wand with cold or warm water before and after being use. If your wand seems too cold for you, you can warm it up with your own hands or you can sleep with it in your bed.
· All-natural crystals can be charged energetically in different ways: you can charge with the powerful light of the full moon. with the energy of the sun, or the earth.
· Create your sacred space: disconnect all electronic devices, find a comfortable place, clean the space with incense, play your favourite music and start feeling.
· Meditate with your crystal wand, breathe and align the energies of your chakras, release everything that blocks you and open your heart.
· Convey your intention to the wand and establish a deep connection with it.·
· Love your crystal wand, sleep with it, meditate with it, sit on top of it, use it for y
SAKTION CRYSTAL DILDOS
Saktion is the feminine energy, it is the awakening of Shakti, the feminine principle as the essence of all things. Saktion ignites and awakens your inner goddess to empower your feminine and subtle pleasure.
With SAKTION natural crystal wands, you'll start a path to self-discovery through self-pleasure, enjoyment, and connection with yourself at your own pace, combining sensual pleasure and the properties of stones.
Each piece is unique and a jewel for a lifetime. All wands have been cut from 100% natural crystal. Saktion wands have been entirely hand-carved, without chemicals or artificial processes to ensure the smoothest and most perfect finish.
*Color and size may vary. It is hand-shaped and made with pure rose quartz. Small imperfections in the crystal are normal due to the hand-polished process. No chemicals are used in the process.
To exercise your withdrawal right, please read carefully the following information and our Refund Policy.
- You have the right to return your products within 14 calendar days. You must notify Bijoux Indiscrets about your decision and ship the goods to the address provided in our Refund Policy .
- Products must be sealed and unused.
- Items not eligible for return. Please note that, for reasons of health protection or hygiene, we do not accept returns of intimate apparel or products that are specified as non-returnable in its description, unless they are faulty.
- You shall cover the direct cost of returning the goods.
Please, visit our Refund Policy for more details.


Customer Reviews
06/15/2023
Marge

Portugal
The most beautiful object
I'm so happy!!! This ***** is pure energy. It is beautiful. The quartz is smooth and perfect. It is heavy and cold. It is great for external and internal use. Love it!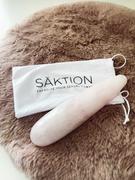 06/05/2023
Maria

Belgium
Precioso y natural
Soy Tauro, el cuarzo rosa es mi piedra y claro, al verlo, no me he podido resistir a comprármelo. Una experiencia diferente, natural y sencilla, igualmente placentera. Me ha encantado!